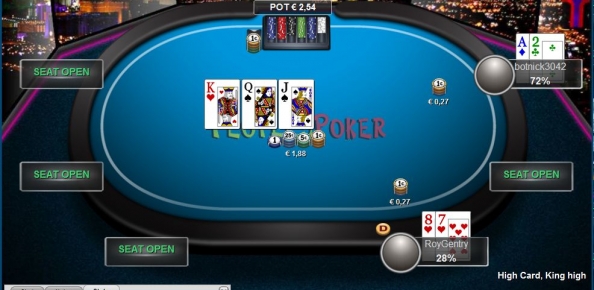 A few hours later by the People's Poker Tour in Saint Vincent, we have received the first information and photos of the new software developed by the People's Poker for all online poker players.
In the lobby there are many new features including the bonus reward, and the introduction of disciplines such as Omaha and Mixed Games, unfortunately there is no appeal the poker rush, but considering that it is a beta version, there is every chance that comes in final version.
Our impression is very positive about the software, graphics, light, fast and intuitive, fully customizable by users, pack of 4 colors, ability to remove the avatar, show the amount, saying the odds and so on. The layout of the table in the basic version is very light but it can also be customized according to the taste of the users and players.
The news does not end here, it seems that the hand histories can be viewed either through a replayer that a visual report in a style identical to that used by iPoker which suggests that there is in the full version or rather the final Holdem Manager but it is still early to tell. The work done by programmers or by the People's Poker team for this new version is undoubtedly very good and the results speak for themselves.
When you have got much details about this new software for example the date of the last version we write a news about this, so we invite to follow us for all information about casinò online games. Remember your comment is most important for us so please share with us your consideration about this tread.
What do you think of this software? What you want change it and Why?