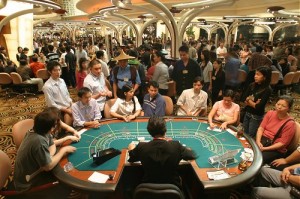 It seems to proceed in steps the process that sent within two years, this is the optimistic forecast, will lead Japan to legalize gambling. A cross section of 150 MPs, from both the ruling party and five of opposition, has developed a project that aims to repeal the old ban. The potential legislation would pave the way for the emergence of casinos on the soil of the world's third largest economy and is, as the Liberal Democrat Parliamentary Party Takeshi Iwata, will serve "to promote tourism, create jobs, encourage business and stimulate local development ".
Betting is now "technically illegal" in Japan, but the government allows those on bicycle events, watercraft, motorcycles and racing of horses. It is estimated that the industry could generate revenues between 10 thousand and 44 thousand million dollars. Even based on lower estimates, it would be a more lucrative market than Las Vegas.
"The adjacent areas are contemplating similar projects and if we hurry we might miss a great opportunity," says Iwaya. The earthquake that rocked northern Japan in March last year has severely damaged the Japanese economy, which is still trying to recover.
Today, Macao and Singapore markets are the most profitable gambling in Asia, but casinos are springing up in Vietnam, Cambodia and the Philippines. South Korea has just opened a center for foreigners, while Taiwan is deciding whether to allow gambling.
Not only are the Japanese to see rosy prospects in the development of the sector. Even the U.S. casinos, facing the stagnant national economy, are looking with increasing interest to the Asian market.
For ten years a group of lawmakers is trying to pass a law that allows gambling but so far this campaign has failed. However, public opinion is showing growing support and according to two surveys conducted last year by some Japanese newspapers, 60 percent of respondents were in favor of the legalization of gambling.
In contrast, a survey by business magazine Toyo Keizai showed that only 40 percent of respondents were in favor of the landing of the casinos in Japan. Sakihito Ozawa, executive of the Democratic Party of Japan, declares: "The casinos are now first-class resort with shopping malls and shops. Would not it be nice if Japan had something?".