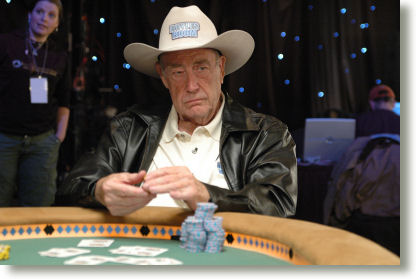 Today, the story of Full Tilt Poker is in everyone's lips as you say, it is rare to find someone passionate about poker that does not know the sad story behind the former poker room FTP.
Today, the famous star of Poker, Doyle Brunson, through his personal blog has told his story on the Full Tilt Poker especially because it has been put at stake. Below we present a summary of your statement, to read the full version visit the official blog of Dyole Brunson.
As time passes, we go more in depth story on Full Tilt Poker and the more it gets intriguing. I've been accused of defending Howard Lederer because of our friendship. I think I have the right to express my opinion, I'm not saying that just as Ferguson Lederer or not they have faults. People think that just because we are friends I run to what Daniel says, but they are wrong! Sometimes we found ourselves in disagreement between us on some matters. I admire Daniel and I have no problem admitting to some of its aspects. Anyone with a modicum of common sense would understand that there are chances that both pro poker are not aware of the financial problems that occurred before the famous Black Friday.

Full Tilt was a s.r.l. and the c.d.a. would have to accept the financial reports. It had nothing to do with the finances of the company, only controls finanziari.Una question thatnaturally arises is: Why Raxy Bitar, former CEO of FTP and the main responsible for thisstory directs the remains of the company? Why was not dismissed? The answer is very simple, is the only one who knows both the revenues and expenditure of the company.

Bitar had access to all documents, bank accounts and so on forth. He is currently doing his best to say so to worsen the situation even more, without a doubt is under the supervision of lawyers. Before Black Friday, I spent a couple of weeks or better to playChinese poker weekend in the company of Bitar and I got to listen to conversationsbetween him, Lederer and Eli Elezra. Another question that whirls me to mind is: whyChris decided to leave 40 million dollars in the hands of the management of FTP?

The real winners in this whole thing will be the lawyers. The issue will drag on for yearsand the parcels will be enormous. Who will pay? I think the answer is "none of my business."
And what do you think of this story?