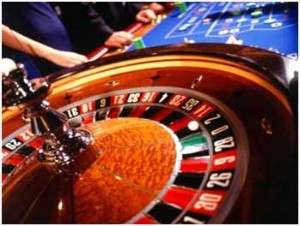 Roulette is a game where the payouts are more or less equivalent to the probabilities of winning. Today we want talking about rules and strategy of this game.
There are different types of roulette, the rules of this type of game depend from different casinos and these all affect the actual proportion of the wagers the house retains,  generally the house edge varies from around 2.5% to a maximum of 5.26%. The one thing that should be avoided in roulette is some of the mythology that people use in a vain attempt to beat the laws of probability. One myth that is often used in roulette is what is known as the gambler's fallacy.
There are a lot of rules depents from the Casinò where you play, below we list the different bets that can be made:
Straight Up (Bet gain equal to 35:1)
Bet on a single number
Split Bet (Bet gain equal to 17:1)
Bet on two numbers
Street Bet (Bet gain equal to 11:1)
Bet on three numbers
Corner Bet (Bet gain equal to 8:1)
Bet on four numbers
Five Bet (Bet gain of 6:1 with American roulette)
Line Bet (Bet gain equal to 5:1)
Bet on six numbers
Column Bet (Bet gain equal to 2:1)
Bet on the column
Dozen Bet (Bet gain equal to 2:1)
Bet on twelve numbers.
If you choose a color, always bet on it, else  If you opt instead for a value Odd or Even do the same thing. You can change the choices but remember that the chances of victory diminish, focus exclusively on a bet, play quietly, keep an eye on your bets and do not overdo it.
We hope that you are liked this articles and we invite you to keep update it with us for news about all casinò games, strategy, rules and much more.