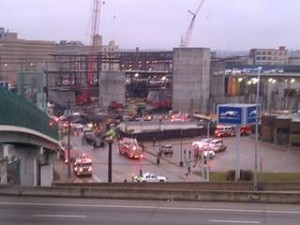 Inspectors gave permission to resume construction at the Cincinnati casino site, where some days ago a portion of a floor collapsed and injured more than a dozen workers. The president of Messer Construction Co. says taht construction, safety and inspection procedures were reviewed and new ones added to prevent another collapse. The casino is scheduled to open in spring of 2013.
"It's possible" that a steel beam that was meant to support a metal bed where concrete was being poured on that floor was not permanently affixed with all its bolts, said Cincinnati's chief building officer. The collapse occurred weeks after a similar Cleveland casino accident with the same developers, who say the cases aren't linked.
"Our top priority is to ensure everyone at our jobsites can return home safely to their families at the end of each day," Messer's president and chief executive Tom Keckeis said in a statement. "We have stringent safety processes and protocols in place to ensure our jobsites remain safe and our structures secure".
Its last Ohio incident was that year, when it was penalized for four serious violations and paid a penalty of $3,125. One involved a lack of adequate fall protection for workers.